The economic and social change has completely changed the way clients make their purchasing decisions. For any business to survive, they require to know the tricks, tips and insights that are necessary to position them in the right place at the right time and ensure that they have maintained the attention of current and future customers. This is why businesses have to give their customers the gift of convenience by helping them to do more with their time, allowing them to conduct their business on the go by booking and paying for classes through the mobile devices.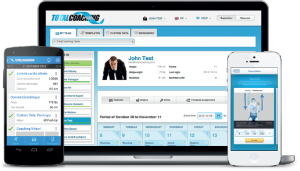 One thing that people never lack in their pockets is their phones. This is where the Totalcoaching personal training software comes in; it allows a personal trainer to get into their client's daily routine and engage, educate and interact with them. Knowing the best way to leverage the power that a smart phone has will assist personal trainers and gym owners build long lasting relationships with new and potential clients after their first session.
Of course there is a myriad of other personal trainer softwares in the market, however, none of them offers the total fitness engagement like the Totalcoaching app. Below are some of the creative features you are bound to meet.
An Exhaustive Bank of Exercises
With over 1000 3-D animated exercises ranging from yoga to boot camp, you are bound to find a personal training task that spikes your interest. Each client can easily create their own workout plan that will fit into their routine and help them reach their personal goals. If you are unable to find an exercise, there is an extension that allows you to add your own picture or video.
Training and Nutrition Log
Even after a client has done their daily runs or press-ups, they require an instant feedback, the app provides daily reports on the time, calories burned and other stats that the client wishes to know. A client can also set his/her own goals and easily follow up on them. It also gives personal trainers the possibility to keep track of their client's progress so that they can determine the best way to intervene. Gone are the days when client-trainer relationship was hampered with redundant exercises due to the breakdown of communication, now personal trainers can come up with personalized exercises for each client to ensure maximum productivity.
Communication Tools
After collecting data on their client, the app gives the trainer a platform to talk with his/her clients regarding their exercise depending on their analysis of their progress. This is bound to motivate clients and help them avoid rampant fitness mistakes.
Simple and robust client user interface
The app's user interface is made captivating to increase client interactions. The client can save their favorite session so that they can always go back to them when they need to. They can also create graphs so as to fast track their progress. The UI is easy to use and bound to keep clients interested.
Full Customization
In addition to its many helpful features, the app helps promote your brand by allowing you to tweak some of its features. You can add your brand name and logo to the app, connect the app to your website so that user login can be done through it. It also provides the possibility to set a custom login page, where your clients will log in to their TotalCoaching account. That custom login page can then be added to your website so that your clients can log in directly through your website.
Taking advantage of technology will ensure that your clients are more engaged, promote your own services and brand online with good content and add value to your clients' lives.